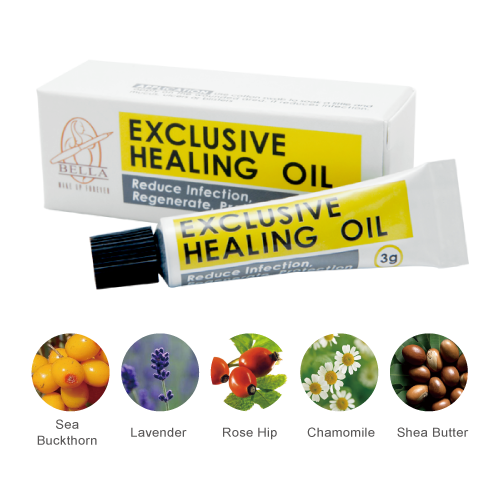 Exclusive Healing Oil
BHAC-0003
Natural herbal extract essence, free of chemical ingredients. Gentle and eco-friendly
Isolate external irritation, quickly reduce the pain
Protect skin, soothe discomfort
Prevent the chap of skin, a boost of deep-down hydration.
Descriptions
Exclusive Healing Oil provides the best aftercare of the PMU procedure.
Its ingredients comprised a variety of extract essence: Sea Buckthorn, Lavender, Rose Hip,Chamomile, Shea Butter. Provide excellent moisture,instant protection for effective soothing and regenerating of skin.
Exquisite aluminum packaging makes it easy to carry and use.
Use
Apply on skin and lip to bring back a gorgeous luster.
Instantly form an external protection layer for small wound, scratch or cut. Help the body to operate normally and heal the wound.
Highly effective after the PMU procedure, helping to fasten the heeling processes, so as to minimize scab and color fade.
Reduce dryness and peeling of skin. Can also use for daily moisturizing after recovery