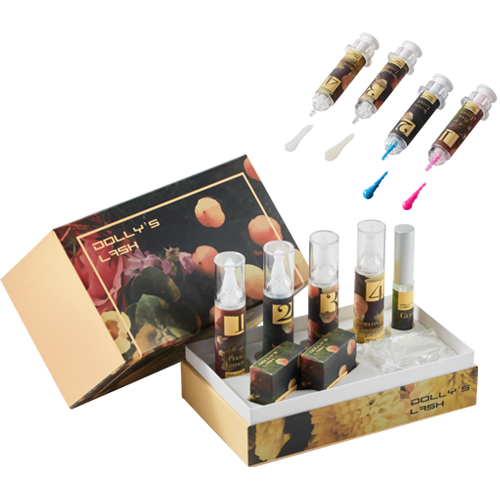 New Dolly's Lash Kit
DZAD-0012
The world's first creation - hot compression lash care
Bella constantly brings forth the new ideas for every woman's desire we lift the eyelashes better just like blooming flowers which makes it an art of styling.
Intense lash care - the secret for increasing more customers
Stay healthy after multiple treatments.
Keratin deep conditioner
Keratin essence - deep repairing the eyelashes.
Provide the best high - class service to customers.
Easy way to create the perfect natural curls.
Designed for different eye shapes. Accessories for lash lifting to create perfect natural curls.
Kit Content
DYCA-0035 #1 Lift Lotion x 1 jar
DYCB-0035 #2 Setting Lotion x 1 jar
DYCD-0035 #3 Nourishing Lotion x 1 jar
DYCE-0035 #4 Keratin Deep Conditioner x 1 jar
DYBC-0031 Large Silicon Pad x 10 pcs
DYBB-0002 Medium Silicon Pad x 10 pcs
DXAA-0037 Dolly's Lash Glue x 1 pc
Application: 5~8 times